column 1…
Costume Jewelry by Color – Purple
The Delhi Purple Sapphire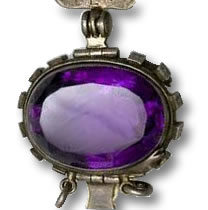 In 1943, a mysterious box arrived at the Smiithsonian with a request to wait three years to open it. After waiting three years, the museum opened the box. Inside was the Delhi Purple Sapphire with a hand written note. The note contained the stone's history, and ended with the following warning, "Whoever shall then open it, shall first read out this warning, and then do as he pleases with the jewel. My advice to him or her is to cast it into the sea".
In 1857, during the Indian Mutiny, the Delhi Purple Sapphire was stolen from the sacred idol of the Hindu god of war, in the Temple of Indra. Indian mythology warns of terrible curses for those who steal sacred stones of the Gods. This is where the curse begins.
Colonel W. Ferris brought the Delhi Purple Sapphire home with him to England. Soon after Colonel Ferris returned home, his family was besieged with financial and health problems leaving them in near financial ruin. Coincidence? A friend of the family committed suicide while he had the sapphire in his possession.
In 1890, author Edward Heron-Allen bought the stone and declared it cursed as he experienced bad luck from the day he acquired it. Heron was a well-educated and had a reputation of someone not easily prone to myth. But in the case of the Delhi Purple Sapphire he was convinced the stone was cursed. He gave the stone to two friends who both suffered serious misfortune and returned the gem back to him.
Desperately trying to get rid of the sapphire, Heron threw the stone in the Regent's canal. The sapphire was returned to him three months later by a dredger who recognized it.
In 1904, after his first daughter was born, Heron was desperate to get rid of the Delhi Purple Sapphire. He sealed it in a box and shipped it away to his bankers with instructions to lock the gem away until his death. Upon his death the Delhi Purple Sapphire was to be donated to the Smithsonian.
But the story doesn't end there. John Whittaker of the Smithsonian was asked to transport the Delhi Purple Sapphire to an event at the Heron society. On the way to the event, a sudden thunderstorm trapped him in his car. Whittaker survived the life-threatening ordeal, but was scarred from the experience. He was asked to transport the sapphire two more times. The next encounter with the sapphire left him violently sick with a stomach flu; and the subsequent trip left him writhing in pain with a kidney stone.
[/jcol]
column 2…